For companies looking to recruit talent
Do you want to recruit excellent talents for your company?
VISHU can help you recruit your ideal candidate.
Our Recruitment Process
Vishu's recruiting process starts with a commission from the hiring company.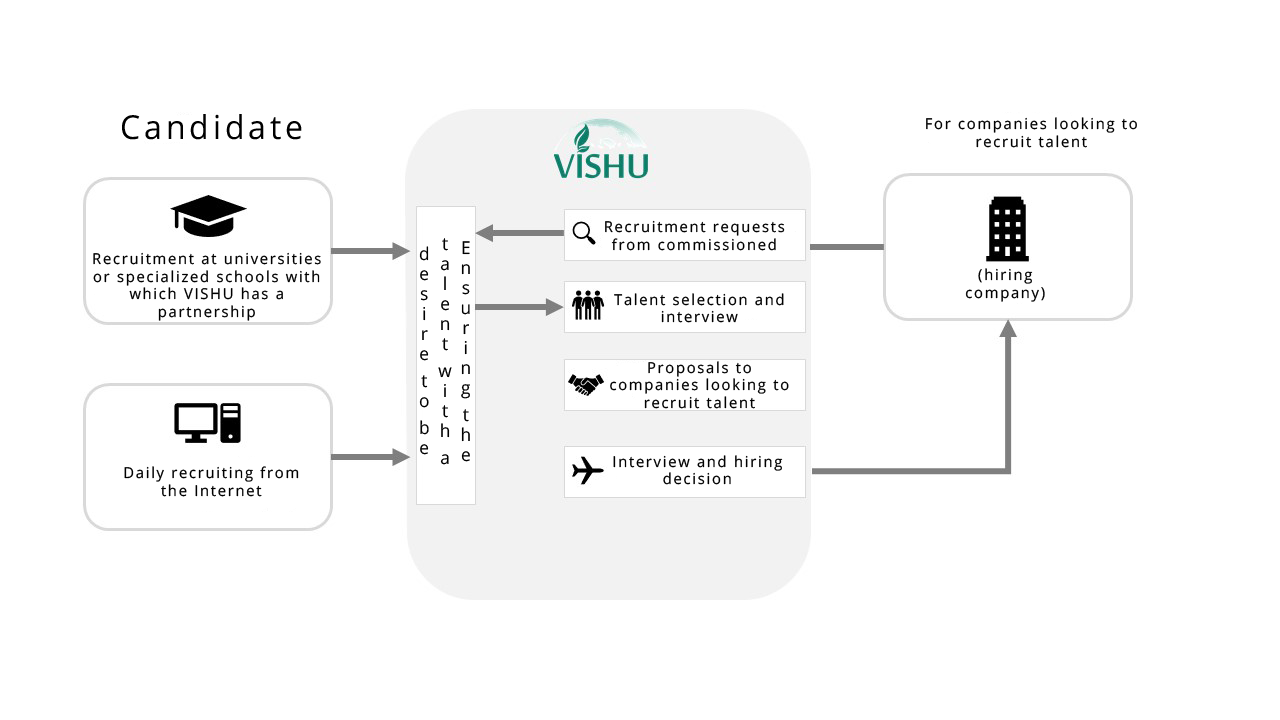 Features of VISHU's Recruitment Services
Flexible and Highly Responsive Recruitment
We are able to efficiently and effectively recruit the personnel that companies are looking for because we are constantly recruiting and securing job applicants via the Internet and social networking services.
In addition, we also efficiently search for the desired human resources through universities and vocational schools who have partership with VISHU.
No initial cost
We offer a pay-per-success fee-based recruiting service, which means that you only have to pay once you have successfully recruited a candidate. This is very efficient.
In the unlikely event that a candidate who is hired,but resgins the company immediately, a part of the fee will be refunded.
(pay-per-success) fee system
The recruitment service is free of charge from the start of recruitment to the selection of candidates to interviews, so it is possible to hire the personnel you want efficiently and at low risk.
As for the pay-per-suceess fee amount, 35% of the annual salary of the successful candidate will be paid as a consulting fee. *1
In the event that a candidate who joins the company via our recruitment agency service resigned early, a part of the consulting fee will be refunded. The amount of the refund will vary depending on the length of time until resignation and the terms of the contract. *2
---
* Annual salary is based on monthly salary14 months (including 2 months bonus).
*2 Specifically, it depends on the contents of the contract at the time of employment.
Assistance in the hiring process
We will act as the recruiting department for your company and help you to successfully hire your ideal candidates.
We will interview the potential candidates before we make a proposal to you, so you can be confident that when we are discussing with your company, we will be able to offer you the right candidate as your requirements.